About Us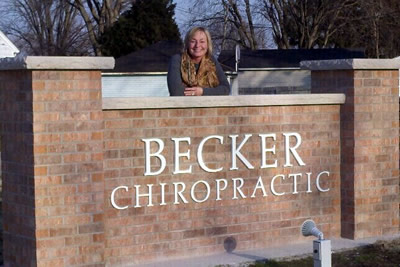 At Becker Chiropractic, we believe that the work we do is a partnership. We strive to meet our practice member's goals while creating an environment of healing. We pride ourselves in providing opportunities to learn and connect.
Success Comes in Many Forms
Dr. Becker honors all measures of progress and improvement. She remembers treating a self-employed farmer with chronic back pain who could barely walk when he first came into the office. Although a man of few words, she knew an impact was made when he stated "I don't know how I would have survived harvest season without your adjustments."
Dr. Becker also helped a family with a variety of chronic illnesses and allergies. She saw them for 10 years and cherished the relationships formed. She reports that their ear infections are now obsolete, they are off all allergy medications, and that everyone is sleeping better than ever! It is this kind of success that fuels her passion to improve the lives of the Mendota community.
Our Office and Policies
Our office, which is located across the street from the Graves Hume Public Library, is set up to accommodate families. There is a play area and changing table available. Everyone receives an office tour on their first visit – no secrets or surprises here!
We aim to be as upfront as possible with what to expect (procedures, costs, etc.) and will always take the time to explain the reasons why recommendations are made. Practice members receive a comprehensive assessment so they may understand exactly what is going on with their bodies and how progress will be measured.
Becker Chiropractic is committed to being available to you – after hours contact information will be provided with the assessment.
MEET DR. CYNTHIA BECKER »
Appointments and Insurance
Same day appointments are available if the schedule allows, or by the next business day. Saturday appointments are also an option. X-rays are available on site, if necessary. Becker Chiropractic accepts most major insurance plans.
We work with practice members to utilize their insurance benefits and will submit claims on their behalf.
If you're ready to learn more about how Dr. Becker can help improve your health, naturally, contact us to book your appointment today. We can't wait to welcome you to our practice.
---
About Becker Chiropractic | (815) 538-2182